Contents
Tech
Inkscape videos and blog
YouTube Video on emulations
Another headless CMS - DatoCMS
Apple II resources
Carbon: Beautiful screenshots of your code
ImGui: Bloat-free Immediate Mode Graphical User interface for C++
8088 MPH Revision 2015 olskool demo winner
Sound resources on an Apple II
Create Apple II DSK images with monitor text files
Science
Polynomial Optics: A Construction Kit for Efficient Ray-Tracing of Lens Systems
Art
Idea to generate Double Planetoid by M.C.Escher as a shader
Inkscape videos and blog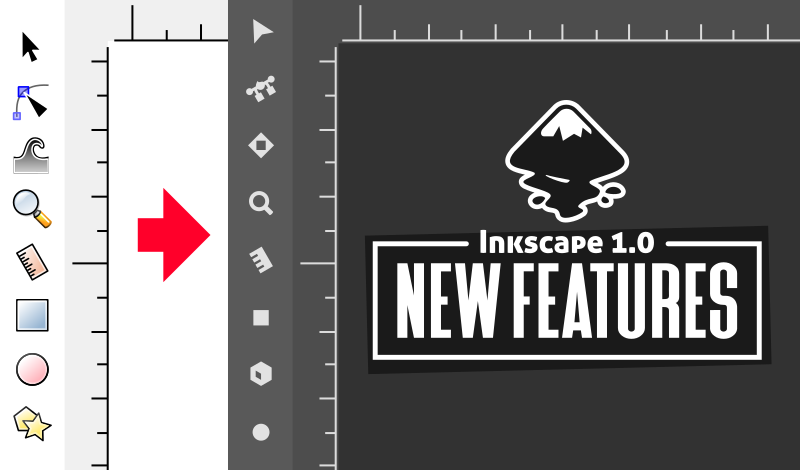 I found this good video which compares Inkscape & Illustrator. The author has many other videos on using Inkscape and a blog with lots of tutorials/articles. Highly recommended.
YouTube Video on emulations
This veeery long video talks about emulation, cycle-perfect emulations and retro-hardware. On the video we have Matt Godbolt who wrote the JSbeeb BBC micro-emulator and jason Turner. Worth the view. [YouTube]. This is the other side of the video [YouTube]. Mostly talks about 6502 processors. One very interesting piece of information discussed is that the opcode $87 which doesn't actually exist does a store A & X into zero page (AAX / SAX / AXS) [reference]. In addition he show the Visual 6502 projects and talks about where the different registers are, etc. [visual 6502].
Another headless CMS
To look at: https://www.datocms.com/. NextJS blog hitting a DatoCMS: https://cms-datocms.now.sh/. For image resizeing it uses imagix API (https://www.imgix.com/).
Apple II resources
Applesoft snippet to view color palette
Small program to show the 16 colors available on the Apple II. Here's the code and
10 GR : HOME
20 FOR I = 1 TO 16
30 COLOR = I
40 VLIN 5,35 AT 2*I+2
50 VLIN 5,35 AT 2*I+3
60 NEXT I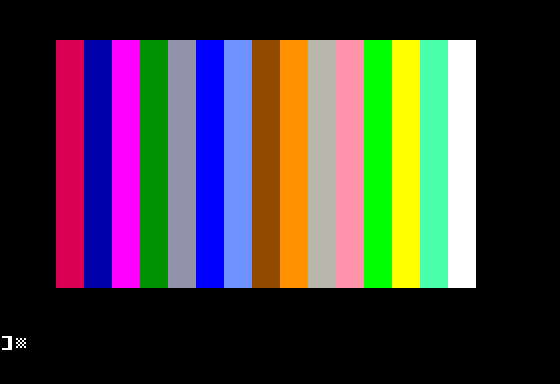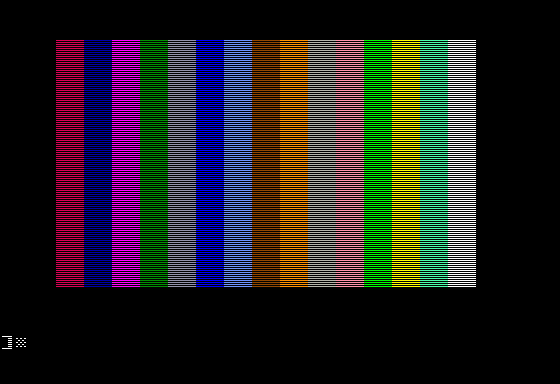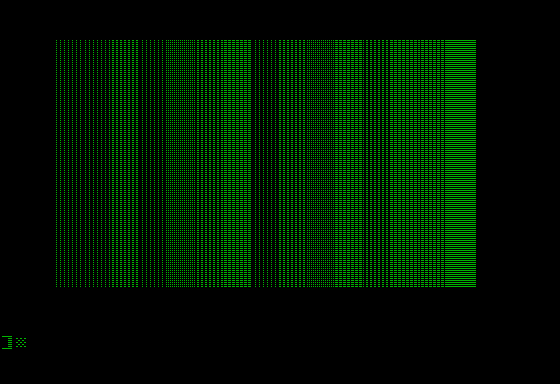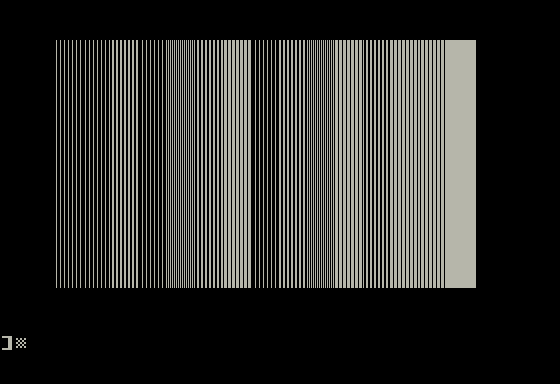 Google sheet with Apple II low resolution addresses
This Google sheet might come in handy to do some tests: [GoogleSheet]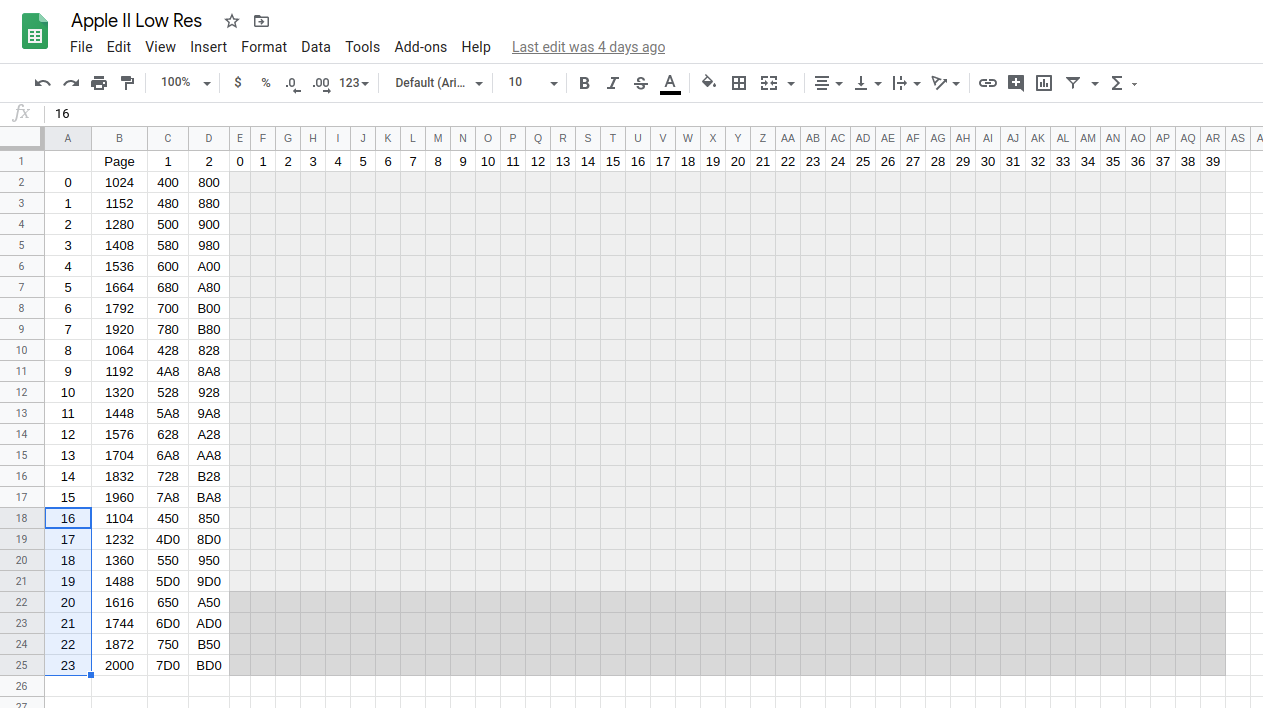 Polynomial Optics: A Construction Kit for Efficient Ray-Tracing of Lens Systems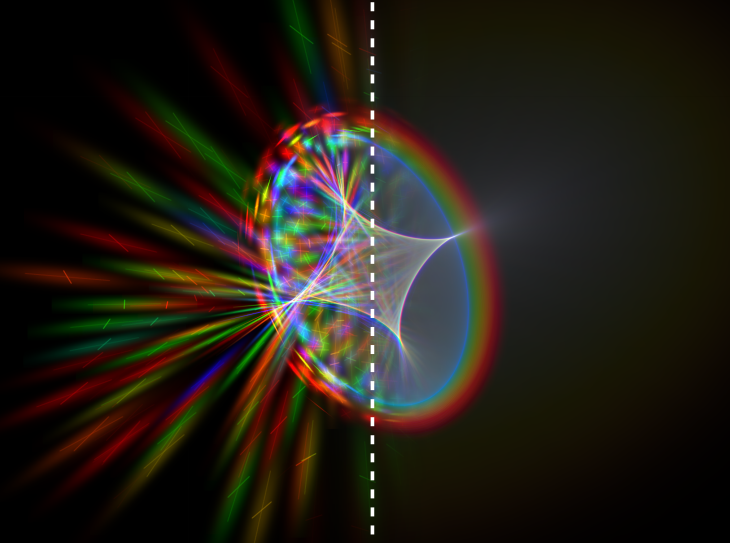 Very interesting paper on the simulation of light transport through lens systems. The paper is called "Polynomial Optics: A Construction Kit for Efficient Ray-Tracing of Lens Systems" by Mattihas B. Hullin, Johannes Hanika and Wolfgang Heidrich. It can be found here. [pdf]. Also there are some source code and other extra information [here]
Carbon: Beautiful screenshots of your code
This is a web page where you can paste a code snippet and render a great PNG image of it choosing syntax highlightning schema of your choice. You can test it [here] and you can download the source from [GitHub]. Here's my Apple II code rendered in it: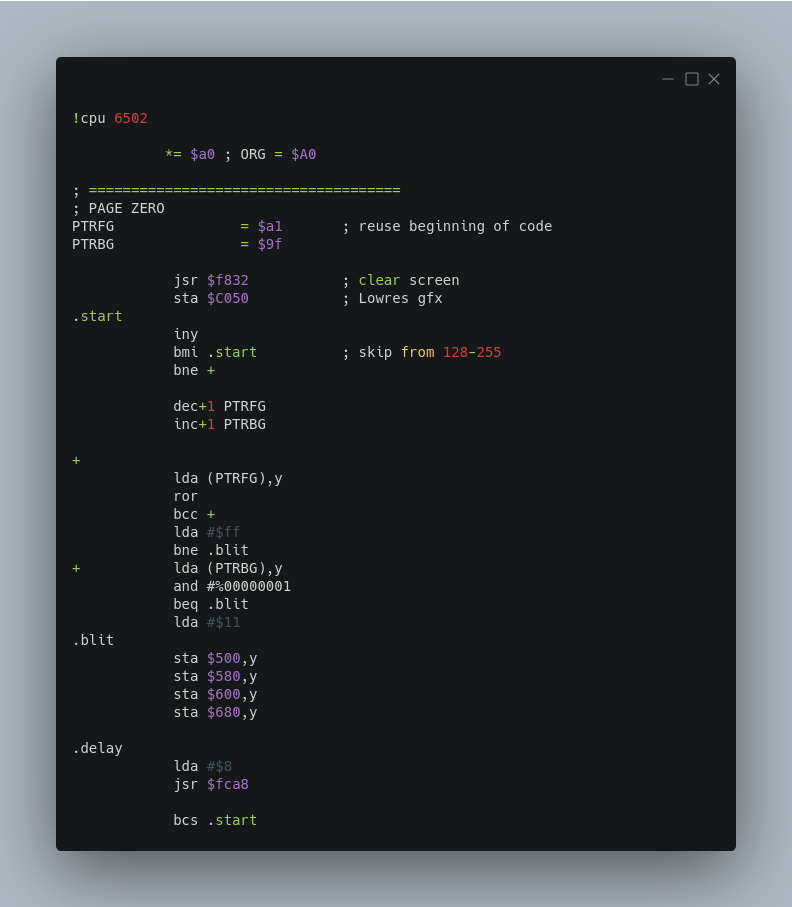 ImGui: Bloat-free Immediate Mode Graphical User interface for C++
Dear ImGui is a bloat-free graphical user interface library for C++. It outputs optimized vertex buffers that you can render anytime in your 3D-pipeline enabled application. It is fast, portable, renderer agnostic and self-contained (no external dependencies). [GitHub]. There is an issue in the GH repo that has a lot of comments/screenshots of people using it. Its [this one]. A good example to test and see how it works in Linux is the one in examples/example_sdl_opengl2 which, as its name implies, uses SDL + OpenGL2.
Idea to generate Double Planetoid by M.C.Escher as a shader
I want to generate this image by renowned Dutch artist M.C.Escher: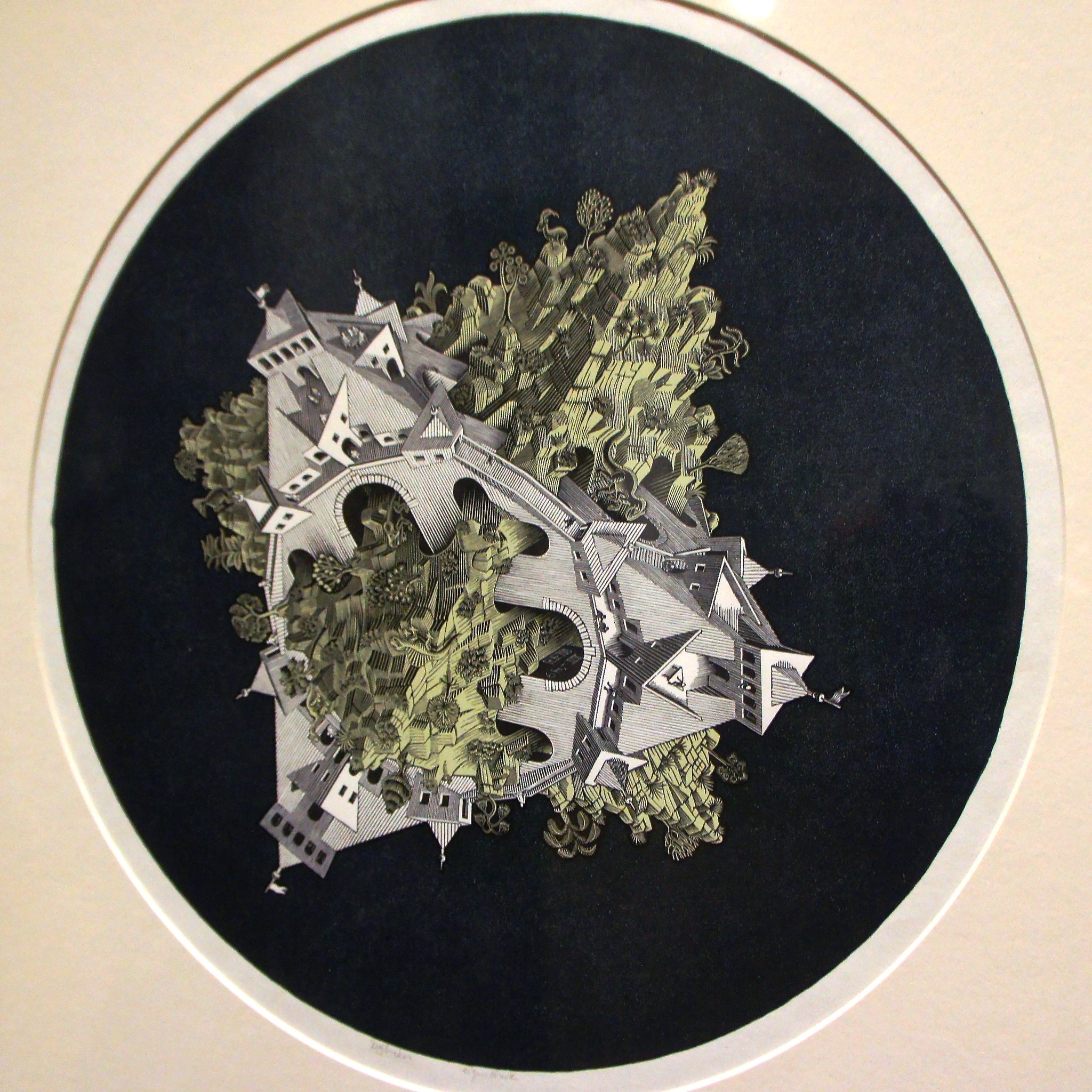 To get started I should probably have a look at this shader [Shadetoy link]. Here's a screenshot: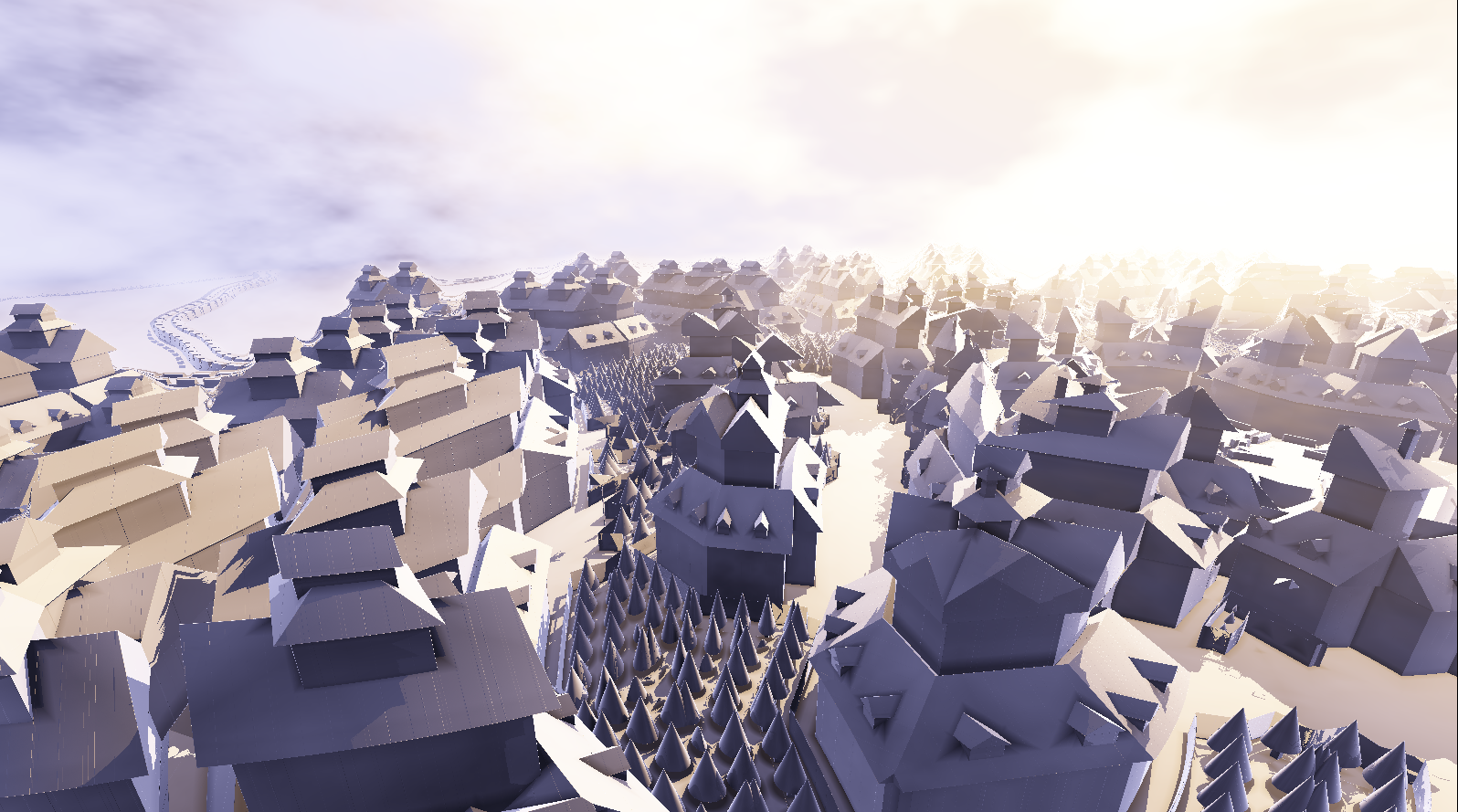 This Shader is inspired by this other Shader which I should study as well [shadertoy link]
As another source of inspiration I found this image which I also liked: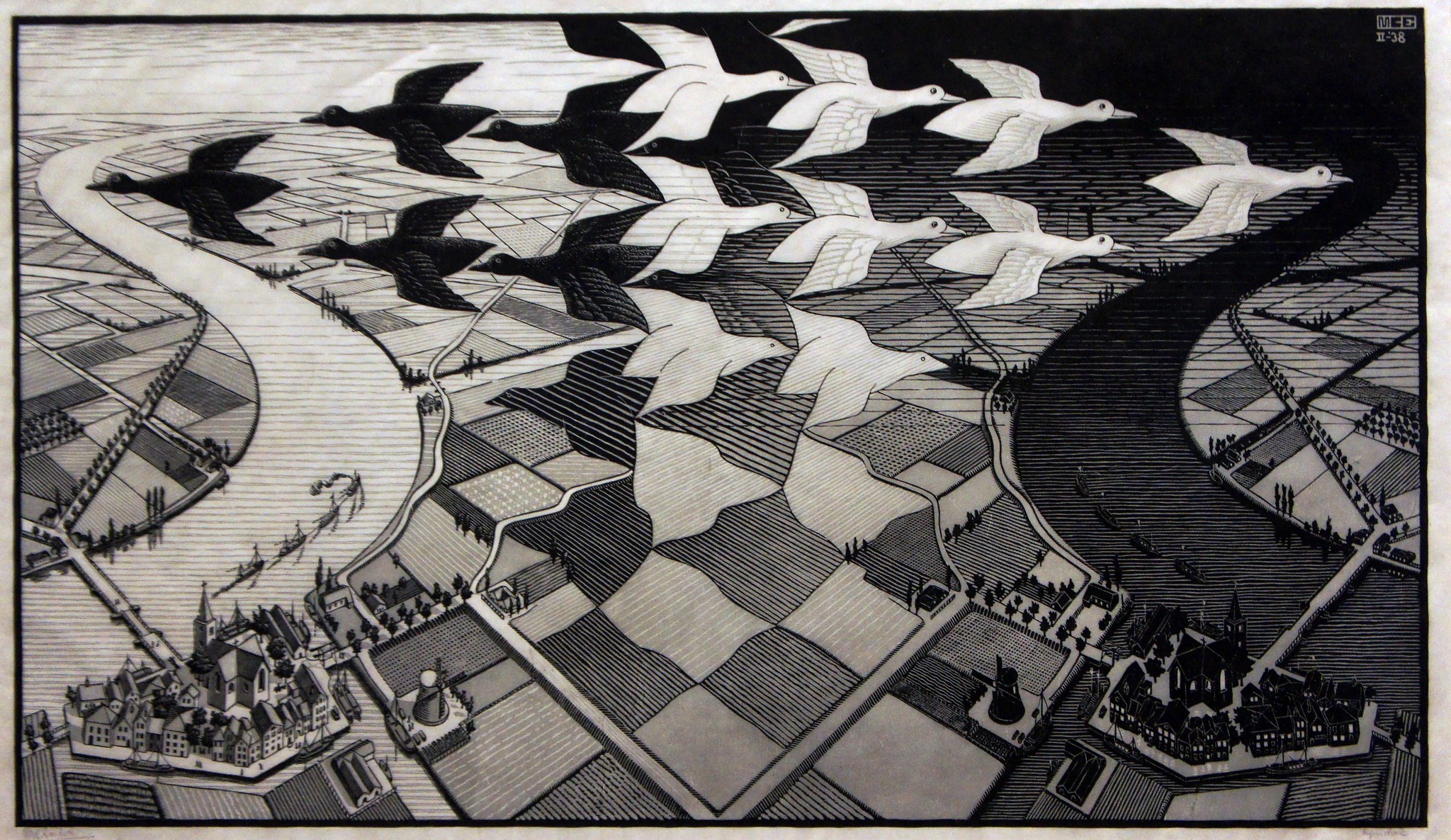 8088 MPH Revision 2015 olskool demo winner
This demo was the winner of Revision15 and pushed the limits of 8088 demos in many ways. I found a whole bunch of articles explaining the techniques and history which make for a fantastic reading. Here they are: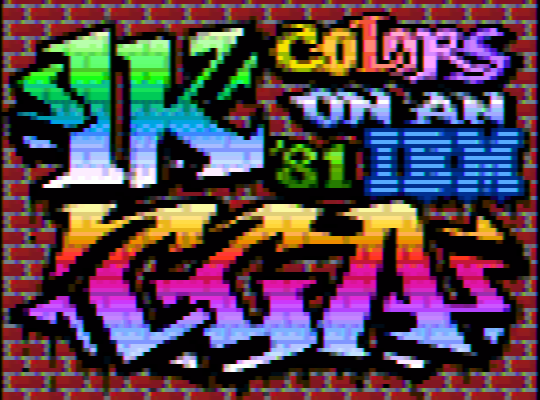 Sound resources on an Apple II
Some sound related resources.
DMS Drummer a Percussion sequencer for the Apple II This is the best in class for the apple II. It allows you to create and play a drum sequence on an Apple II with a decent quality. You can download a demo or pay U$S15 for the full version. Here's the link to the creator site [web] and to the [demo dsk] You can buy the DMS [web]
AppleCrate Polyphonic Music Synthesizer Description of how a crate a 16 voice synth out of 16 Apple IIs. [article]

Apple II Real-Time Single-Voice Music Synthesizer

Apple Duet this is an old technique that allows for two simultaneous voices on classical hardware. [article]
/***************************************************************************
 *   Copyright (C) 1979-2015 by Paul Lutus                                 *
 *   http://arachnoid.com/administration                                   *
 *                                                                         *
 *   This program is free software; you can redistribute it and/or modify  *
 *   it under the terms of the GNU General Public License as published by  *
 *   the Free Software Foundation; either version 2 of the License, or     *
 *   (at your option) any later version.                                   *
 *                                                                         *
 *   This program is distributed in the hope that it will be useful,       *
 *   but WITHOUT ANY WARRANTY; without even the implied warranty of        *
 *   MERCHANTABILITY or FITNESS FOR A PARTICULAR PURPOSE.  See the         *
 *   GNU General Public License for more details.                          *
 *                                                                         *
 *   You should have received a copy of the GNU General Public License     *
 *   along with this program; if not, write to the                         *
 *   Free Software Foundation, Inc.,                                       *
 *   59 Temple Place - Suite 330, Boston, MA  02111-1307, USA.             *
 ***************************************************************************/

/* Electric Duet Player Routine circa 1980 */
 
$0900  A9 01:   LDA #$01        ; 2 *!*
$0902  85 09:   STA $09         ; 3
$0904  85 1D:   STA $1D         ; 3
$0906  48:      PHA             ; 3
$0907  48:      PHA             ; 3
$0908  48:      PHA             ; 3
$0909  D0 15:   BNE $0920       ; 4 *!*
$090B  C8:      INY             ; 2
$090C  B1 1E:   LDA ($1E),Y     ; 5 *!*
$090E  85 09:   STA $09         ; 3
$0910  C8:      INY             ; 2
$0911  B1 1E:   LDA ($1E),Y     ; 5 *!*
$0913  85 1D:   STA $1D         ; 3
$0915  A5 1E:   LDA $1E         ; 3 *!*
$0917  18:      CLC             ; 2
$0918  69 03:   ADC #$03        ; 2 *!*
$091A  85 1E:   STA $1E         ; 3
$091C  90 02:   BCC $0920       ; 4 *!*
$091E  E6 1F:   INC $1F         ; 5
$0920  A0 00:   LDY #$00        ; 2 *!*
$0922  B1 1E:   LDA ($1E),Y     ; 5 *!*
$0924  C9 01:   CMP #$01        ; 2
$0926  F0 E3:   BEQ $090B       ; 4 *!*
$0928  B0 0D:   BCS $0937       ; 4 *!*
$092A  68:      PLA             ; 4
$092B  68:      PLA             ; 4
$092C  68:      PLA             ; 4
$092D  A2 49:   LDX #$49        ; 2 *!*
$092F  C8:      INY             ; 2
$0930  B1 1E:   LDA ($1E),Y     ; 5 *!*
$0932  D0 02:   BNE $0936       ; 4 *!*
$0934  A2 C9:   LDX #$c9        ; 2 *!*
$0936  60:      RTS             ; 6
$0937  85 08:   STA $08         ; 3
$0939  20 2D09: JSR $092D       ; 6
$093C  8E 8309: STX $0983       ; 4
$093F  85 06:   STA $06         ; 3
$0941  A6 09:   LDX $09         ; 3 *!*
$0943  4A:      LSR A           ; 2
$0944  CA:      DEX             ; 2
$0945  D0 FC:   BNE $0943       ; 4 *!*
$0947  8D 7C09: STA $097C       ; 4
$094A  20 2D09: JSR $092D       ; 6
$094D  8E BB09: STX $09BB       ; 4
$0950  85 07:   STA $07         ; 3
$0952  A6 1D:   LDX $1D         ; 3 *!*
$0954  4A:      LSR A           ; 2
$0955  CA:      DEX             ; 2
$0956  D0 FC:   BNE $0954       ; 4 *!*
$0958  8D B409: STA $09B4       ; 4
$095B  68:      PLA             ; 4
$095C  A8:      TAY             ; 2
$095D  68:      PLA             ; 4
$095E  AA:      TAX             ; 2
$095F  68:      PLA             ; 4
$0960  D0 03:   BNE $0965       ; 4 *!*
$0962  2C 30C0: BIT $C030       ; 4
$0965  C9 00:   CMP #$00        ; 2
$0967  30 03:   BMI $096C       ; 4 *!*
$0969  EA:      NOP             ; 2
$096A  10 03:   BPL $096F       ; 4 *!*
$096C  2C 30C0: BIT $C030       ; 4
$096F  85 4E:   STA $4E         ; 3
$0971  2C 00C0: BIT $C000       ; 4
$0974  30 C0:   BMI $0936       ; 4 *!*
$0976  88:      DEY             ; 2
$0977  D0 02:   BNE $097B       ; 4 *!*
$0979  F0 06:   BEQ $0981       ; 4 *!*
$097B  C0 00:   CPY #$00        ; 2
$097D  F0 04:   BEQ $0983       ; 4 *!*
$097F  D0 04:   BNE $0985       ; 4 *!*
$0981  A4 06:   LDY $06         ; 3 *!*
$0983  49 40:   EOR #$40        ; 2 *!*
$0985  24 4E:   BIT $4E         ; 3
$0987  50 07:   BVC $0990       ; 4 *!*
$0989  70 00:   BVS $098B       ; 4 *!*
$098B  10 09:   BPL $0996       ; 4 *!*
$098D  EA:      NOP             ; 2
$098E  30 09:   BMI $0999       ; 4 *!*
$0990  EA:      NOP             ; 2
$0991  30 03:   BMI $0996       ; 4 *!*
$0993  EA:      NOP             ; 2
$0994  10 03:   BPL $0999       ; 4 *!*
$0996  CD 30C0: CMP $C030       ; 4
$0999  C6 4F:   DEC $4F         ; 5
$099B  D0 11:   BNE $09AE       ; 4 *!*
$099D  C6 08:   DEC $08         ; 5
$099F  D0 0D:   BNE $09AE       ; 4 *!*
$09A1  50 03:   BVC $09A6       ; 4 *!*
$09A3  2C 30C0: BIT $C030       ; 4
$09A6  48:      PHA             ; 3
$09A7  8A:      TXA             ; 2
$09A8  48:      PHA             ; 3
$09A9  98:      TYA             ; 2
$09AA  48:      PHA             ; 3
$09AB  4C 1509: JMP $0915       ; 3
$09AE  CA:      DEX             ; 2
$09AF  D0 02:   BNE $09B3       ; 4 *!*
$09B1  F0 06:   BEQ $09B9       ; 4 *!*
$09B3  E0 00:   CPX #$00        ; 2
$09B5  F0 04:   BEQ $09BB       ; 4 *!*
$09B7  D0 04:   BNE $09BD       ; 4 *!*
$09B9  A6 07:   LDX $07         ; 3 *!*
$09BB  49 80:   EOR #$80        ; 2 *!*
$09BD  70 A3:   BVS $0962       ; 4 *!*
$09BF  EA:      NOP             ; 2
$09C0  50 A3:   BVC $0965       ; 4 *!*

You can get a commented version of the code (in french) here [GitHub]
Apple II Code to Disk
This great utility will create a DSK image that will automatically load your code and execute it without the need of having DOS or ProDOS on the dist. Here's the GitHub [repo]