Contents
Tech
Vim for JavaScript development
TMux + Urxvt + Neofetch + Fish Linux ricing
Managing ssh connections
Vim for JavaScript development
I've been recently critized by my fellow co-workers for writing code which thows JavaScript linting errors. So I guess it's time I update my vim configuration so that it lints my code and uses more modern plugins.
I also decided to update my configuration which was pretty old and was a copy-paste from many sources most of which I didn't understand. I thought best to create a new configuration from scratch and use neo-vim (so I can go to my backup config just in case). Here is what I did:
Install vim-plug to manage all plugins. Its really nice and simple to use: add a line in your config (~/.config/nvim/init.vim) with the plugins you need (Plug xxx/yyyy) and then install all plugins by executing PlugInstall. Very cool.
Setup for Javascript development:
Setup PHP development:

Install autocomplete for PHP: CocInstall coc-phpls

Setup Python development:

Install autocomplete for PHP: CocInstall coc-python (https://github.com/neoclide/coc.nvim/wiki/Install-coc.nvim)
Here are a couple of articles I need to go over to update my config:
Stuff to look at:
TMux + Urxvt + Neofetch + Fish Linux ricing
Looking at some Linux ricing screenshots I've always seen terminal screeshots that have a border which makes them look nicer. Unfortunately there is no such option in gnome terminal. One disadvantage of urxvt (the terminal a lot of people use) is its lack of tabs. For this I will use tmux which I've played with a couple of times but never used it much. i'll give it a shot. Here are a couple of resources for tmux, urxvt and a couple of options I learned for neofetch
tmux bindings
tmux new -s myname starts a new session with the given name which you can use to re-attach.
tmux a attach to an existing session. Optionally use -t name to attach to a specific session
tmux ls List active sessions
ctrl-b is used to trigger all tmux keybindings
ctrl-b c creates a new window
ctrl-b w this is the killer command (in my opinion): it shows you all your open windows (the equivalent of tabs) and allows you to switch to one of them.
ctrl-b n and ctrl-b p let's cycle between windows. It's easier to use w in my opinion.
ctrl-b , allows you to name a window which is very useful for the window listing to be useful.
ctrl-b d detach the clent from the server.
ctrl-b ? list current bindings / commands
shift - middle button used to paste (instead of CTRL-SHIFT-V)
More tmux commands - This Gist has a nice cheatsheet [gist]
Some configuration advice for tmux - See this post for some useful options.
My current config:
# ==============================================================
# TMux config
# ==============================================================

# To re-read do: CTRL-B :source-file ~/.tmux.conf

# switch windows using Alt-arrow without prefix
bind -n M-Right select-window -n
bind -n M-Left select-window -p

# Open a new window with CTRL-SHIFT-T
bind -n C-T new-window
bind -n C-W choose-tree -Zw

# Reload config
bind r source-file ~/.tmux.conf

# Change terminal title when switching window
set-option -g set-titles on
set-option -g set-titles-string "#S / #W"

# Enable mouse mode (tmux 2.1 and above)
set -g mouse on

# don't rename windows automatically
set-option -g allow-rename off

urxvt
My goto command:
urxvt -depth 32 \
  -bg rgba:1b00/1b00/1b00/ffff \
  -b 50

~/.Xresources sample config:
! Use Monoid font as default
urxvt*font:  xft:Monoid:size=9:antialias=true

! Scroll history
urxvt.saveLines: 1000000

To re-read this config if you change it rememeber you need to run xrdb ~/.Xresources. To list the fonts you can use fc-list:
$ fc-list  | grep -i monoid
/home/miquel/.local/share/fonts/Monoid-Bold.ttf: Monoid:style=Bold
/home/miquel/.local/share/fonts/Monoid-Regular.ttf: Monoid:style=Regular
/home/miquel/.local/share/fonts/Monoid-Italic.ttf: Monoid:style=Italic

Fish
I'm going to give fish a try. I installed a couple of things to enhance the fish experience:
fisher - to install fish plugins [github]
spacefish theme - [github] cool Fish shell theme
bass plugin - used to install Bash utilities (like nvm ) which doesn't work out-of-the-box with fish. [github]
Neofetch
Neofetch is a command-line system information tool written in bash 3.2+. Neofetch displays information about your operating system, software and hardware in an aesthetic and visually pleasing way.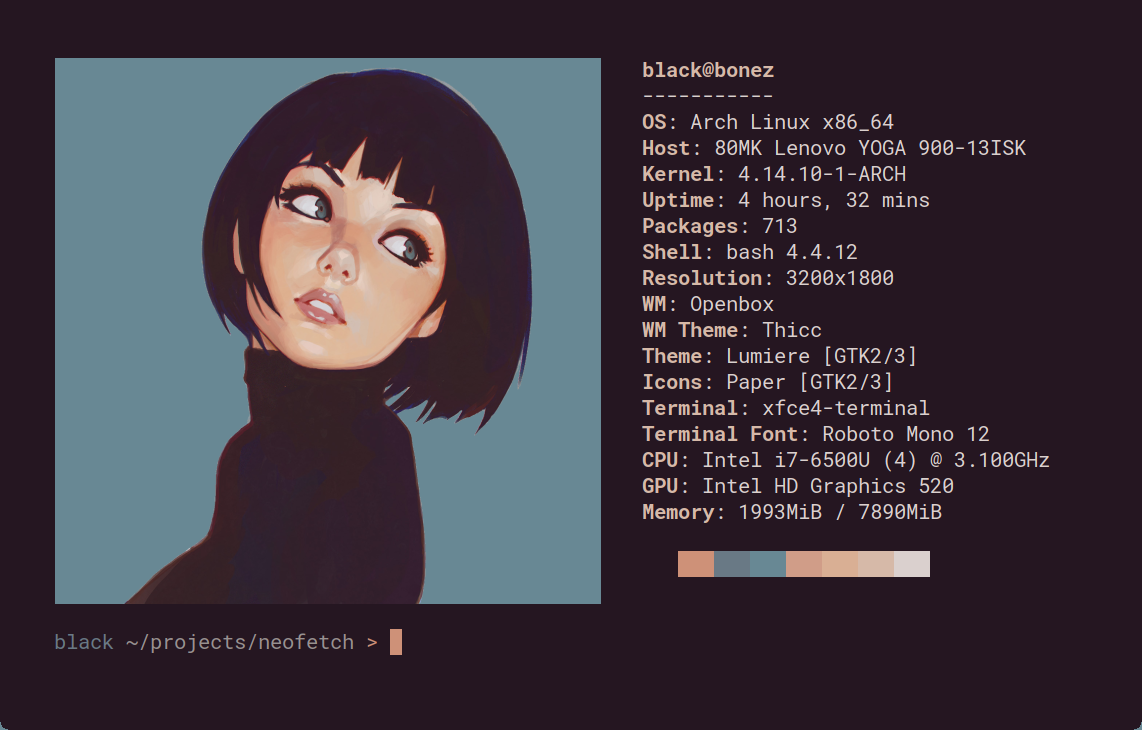 You can use any image if your terminal supports it with this command:
$ neofetch --w3m ~/Dropbox/Photos/Avatars/foto-en-weston.jpg --size 300px

Managing ssh connections
I've been searching for a way to manage ssh connections. I've found two alternatives:
sshch - SSH connection and aliases manager with curses and command line interface. The configuration can be found here: ~/.config/sshch.conf
You can also create entries in ~/.ssh/config for different hosts and then use TAB to complete:

Host asys-reports
  hostname as-lav.auditorservice.com
  user audser
  port 22